Space
05/07/2023
Minotti Cafe Tables: Exquisite Accents for Your Space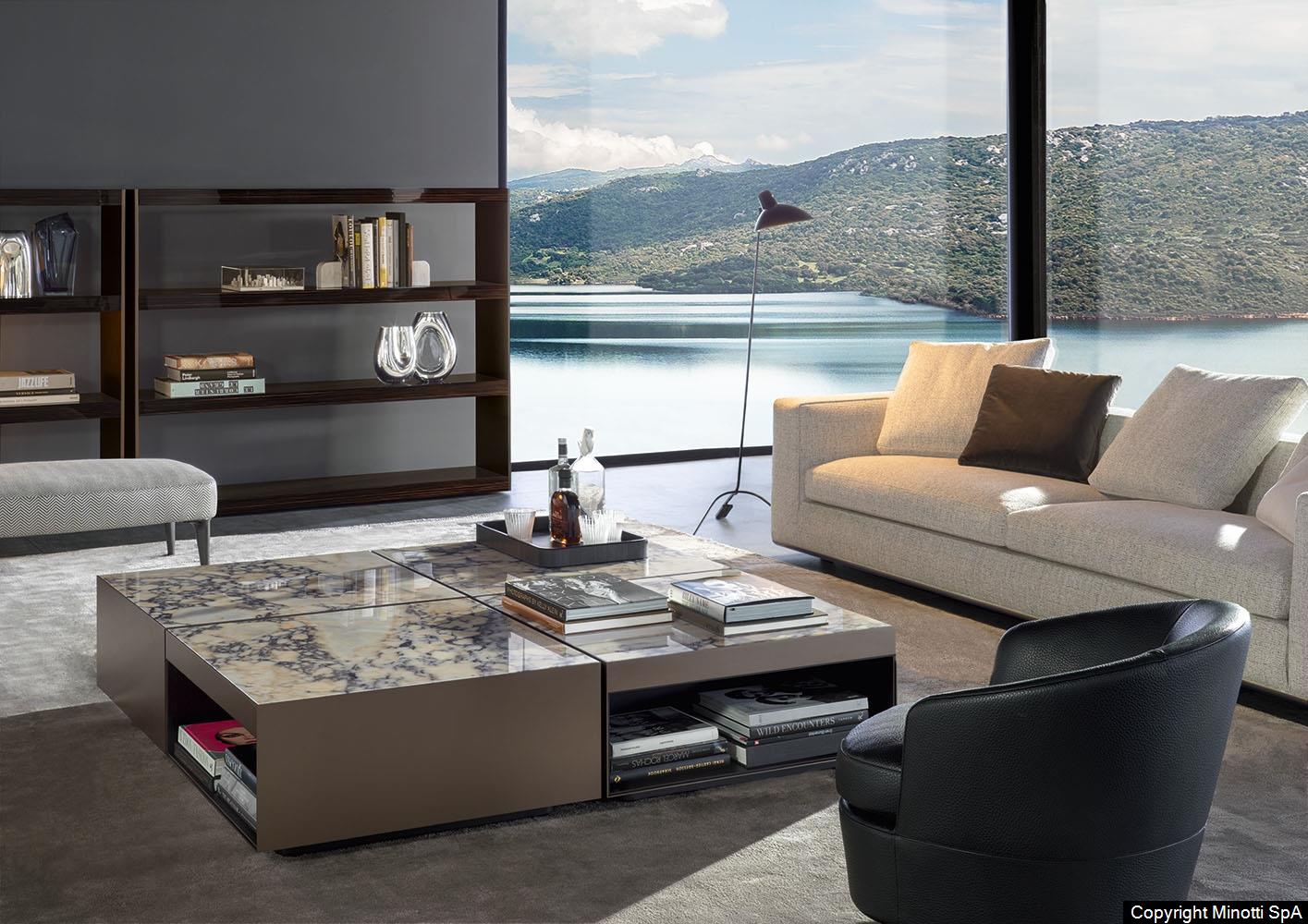 Designing diverse and beautiful spaces with cafe tables has become a popular trend. Always at the forefront of modern trends, EuroStyle introduces Minotti cafe tables to customers in Vietnam, featuring sophisticated, modern, and innovative designs that excel in the field of interior design, creating ideal living spaces.
The Fusion of Exquisite Beauty and Modern Technology in the Lido Coffee Table
The Lido Coffee Table, created by the design duo GamFratesi, draws inspiration from the concept of a cozy home reimagined in the form of a cafe table. The table's top is crafted from Basaltina stone, Bianconero travertine, or high-quality ash, available in round or square shapes, evoking a sense of intimacy and familiarity.
Each line embodies the Brutalist architectural style with a twist, thanks to the intricately woven X-shaped sculptural base, coated in a glossy Moka finish, creating a distinctive feature of this Minotti cafe table design.
With two basic color schemes, black and light gray, the Lido Coffee Table exudes refined beauty in any space, reflecting the characteristic design style of the Minotti furniture empire.
Stand Out with Artistic Lighting Details and High Practicality: Minotti Ellis Coffee Table
With a desire to optimize the customer experience, designer Rodolfo Dordoni has created the Minotti Ellis coffee table, meeting high aesthetic standards and functional requirements.
Diverse Interior Styles with Two Unique Versions
The elegant design features an ultra-transparent glass top with rounded edges, accentuating its allure, while the sleek black lacquered metal base adds a touch of luxury.
Another version with a slimmer design, where all the details are made of luxurious Light Gold metal, boldly expresses the brand's identity.
The artistic highlight of this design lies in the lighting effect achieved through the contrast of light on the polished surface of the pale gold metal, a unique feature that can be applied to enhance various spaces.
A Fresh and Unique Design in the Contemporary Interior Style, Inspiring Your Workspace: Minotti Cafe Table
With a contemporary style brimming with modern vibes, a cafe table designed for a workspace presents a fresh and exciting idea. Minotti Ellis is the perfect choice for that. Its space-optimized, lightweight, modern, and elegant design fosters positive thinking, creative inspiration, and motivation for high productivity.
Create a Relaxing Space with Harmonious and Luxurious Colors from Minotti Cafe Tables
After exhaustive and stressful periods, sit down and enjoy a cup of coffee or tea on the Minotti Ellis table to relieve all worries and give yourself a space for relaxation.
The deep and serene black tone, though familiar and timeless, harmonizes perfectly with various architectural styles, retaining its timeless elegance and authority.
Torii Coffee Table Design Brings Soft and Graceful Interior Style, Reflecting the Essence of Minotti Cafe Tables
Designer Nendo knows how to create designs with a sense of freedom, simplicity, and captivating imagery portrayed within the products.
The metal structure of the table's legs is the highlight of the Torii Coffee Table, featuring the image of a "torii", a symbol of entrance gates to Shinto shrines in Japan.
The Torii Coffee Table may appear simple at first glance, but it is crafted with meticulous and intricate workmanship. The metal frame is finished in a brushed copper color, while the details are made of black-nickel metal. It is available in various sizes, diameters, and heights. The tabletop is crafted from Calacatta marble, grey stone, or brushed liquorice ash.
Captivate Attention with Modern Architectural Beauty and Sophistication: Elliott Coffee Table
The Elliott Coffee Table is one of Minotti's cafe table designs that features premium materials, notably rare marbles such as Arabescato Purple, Sahara Noir, Rosso Levanto, or high-quality oak and briar wood.
Every intricate detail is meticulously crafted through a complex manufacturing process, combining an outer metal frame with an inner wooden structure to radiate warmth and create a distinct modern charm unique to the Elliott Coffee Table.
The design optimizes functionality as the Elliott Coffee Table serves as both a storage space for essential items and a striking decorative centerpiece, adding a touch of uniqueness to any room.
EuroStyle – Exclusive Distributor of Minotti Cafe Tables
At EuroStyle, our mission is to bring complete joy to our customers. We have consistently prioritized this mission for nearly a decade in the field of interior design. EuroStyle has been, is, and will continue to provide customers with products that not only offer practical value but also embody modern elegance, leading the trend.
As the exclusive distributor of Minotti designs, EuroStyle offers a range of Minotti cafe tables that meet customers' interior needs. These tables are characterized by their sophistication, refinement, and distinctiveness, transforming your space into something unique.
Visit EuroStyle's showroom to experience our products firsthand and receive guidance and advice on selecting items that suit your preferences and style. If you have any questions or need assistance, you can contact EuroStyle through the hotline: 1800282806 or leave your information on the contact page for our professional team to assist and advise you.
——————————
EuroStyle – Luxury Defined
Hotline: 1800282806 | https://eurostyle.com.vn
EuroStyle Design Center, 77 Nguyễn Thái Học, Ba Đình, Hà Nội
EuroStyle Riverside Center, Trung Tâm Almaz, đường Hoa Hồng, Vinhomes Riverside Long Biên, Hà Nội
EuroStyle Saigon Center: 199D Nguyễn Văn Hưởng, Thảo Điền, Q2, TP HCM